As businesses measure their growth based on the revenue and expense cycle, accounts payable is a range of invoice payment activities that impact companies on a high-scale. It is a key part of the procure-to-pay life cycle that comes beneath a company's expenditure cycle.
This specific payable process generally involves receiving invoices, validating invoices, invoice data capture, invoice coding, invoice approval, invoice matching, and invoice payment posting. The vital factor that makes this workflow accurate is the efficiency and the potential of the enterprises' accounts payable teams.
However, studies say, on average, 3.6% of invoices have serious errors. But, best-performing companies that adopt intelligent accounts payable practices visibly brought the error rates to below 1% or almost to zero. Besides, the adoption of intelligent accounts payable solutions makes remarkable improvements across the accounts payable performance variables such as process cost, verification, invoice fraud, duplication, multi-tier approvals, and partner satisfaction.
In this article, let's peer through how to transform enterprise accounts payable workflow with intelligent automation.
Conventional Accounts Payable Cycle
Accounts payable involves most of a company's payment activities except payroll. Based on the talent resource capacity, enterprises may have an in-house AP (accounts payable) team or bookkeepers to handle the end-to-end accounts payable activities.
An AP team's sole purpose is to verify and pay companies, bills, and invoices accurately within the respective time frame. The AP teams peer through every purchase order of the company and validate the number of items received with the receiving report and its cost and terms with vendor invoices. It is also bounded with a few internal controls to avoid fraudulent invoice payments, duplication, omissions, inaccuracy, and so on

(Conventional Accounts payable Process Flow)
These processes are carried out through a manual three-way matching process, which compares quantity, cost, description, terms in the PO (purchase order), receiving the report, and vendor invoice in the conventional accounts payable process.
However, the manual accounts payable process poses unsolicited challenges and errors to businesses. This costs companies in diversified ways, particularly in financial aspects and time.
External and internal fraud is one of the main threats where fraudulent invoices are submitted along with legitimate transactions. Time-consuming approvals are another challenge that manual AP teams come across. This results in delayed and missing payments.
Likewise, ineffective data capturing, inefficient talent resource, insufficient storage capacity, sluggish process, invoice mismanagement, money loss, extended exception handling, poor record-keeping, complicated follow-up are the other daunting threats in the manual accounts payable cycle.
How to Transform Accounts Payable with Intelligent Automation?
Shifting from conventional AP process to intelligent automation is the only corridor to transform accounts payable from its labor-intensive workflow to a streamlined and error-free operation.
Enabling intelligent automation solutions across the accounts payable process will change the way invoices are processed and paid. It will further reimage the role of accounts payable operation in enterprises and turn enterprises feature-ready.
If your current outlook on enterprises AP operation raises a question, " Is it necessary to automate enterprise accounts payable?", have a look at the industry benchmarking studies by leaders.
"Gartner's study reveals that by 2025, 50% of business-to-business invoices worldwide will be processed and paid without manual intervention?" Hence making AP automating not an option but a necessity to keep your pace with the changing market demands.
Intelligent AP automation offers a range of solutions from streamlining the process such as invoice sorting, verification, matching against purchase orders, data capturing, validation, and payment posting. Moreover, this sort of solution can enhance vendor relationships, secure early payment discounts, priority delivery, better customer experience, and improve team productivity.
What is the Need for a Fully-integrated Automated Accounts Payable Solution?
Providing intelligence to the accounts payable process helps to derive dramatic operational efficiency across the enterprise accounting function. It eliminates unnecessary human interventions that weaken the AP team's efficiency as a whole.
However, there are differences in the available AP automation solutions in the market. Some are offering partial automation, and the other guarantees a fully-integrated AP automation solution.
The requirement of a fully-integrated account payable automation solution is that each phase of the AP cycle accounts for the operation's holistic performance. With the partial automation solutions, businesses will lose end-to-end process visibility, thereby ending up uneven performance throughputs. But, a fully-integrated intelligent accounts payable solution like InSITE helps to gain operational and organizational efficiency across the accounts payable life-cycle.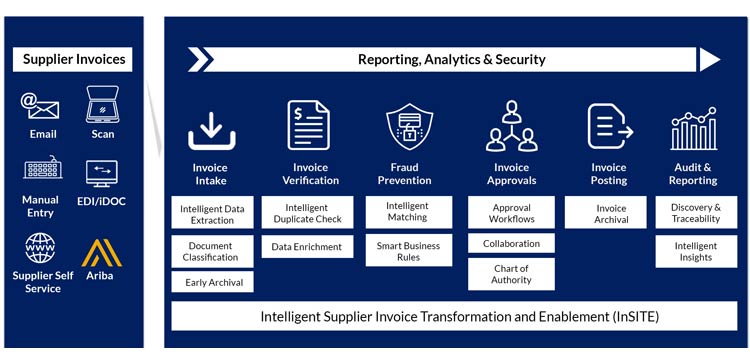 (Workflow of Applexus Intelligent Supplier Invoice Transformation and Enablement Solution)
Hence, transforming enterprise accounts payable with an intelligent automation solution not only streamlines the operations but also help to gain several benefits such as :
Reduction in labor, processing costs, and cycle time
Elimination of duplicate invoice settlements and overpayments
Reduce time and expense associated with audit processing
Leverage vendor discounts through awareness, tracking, and visibility
Strict adherence in accounting processes reduces non-compliance fine
How Accounts Payable Automation with Applexus Insite Change the Game?
Applexus InSITE is an end-to-end intelligent accounts payable solution. It fully automates the accounts payable process using the in-built AIDER technology. Right from invoice processing to payment posting, the whole AP cycle will be managed with high accuracy.
Unlike the common accounts payable solutions, Applexus InSITE streamlines and gives more visibility across the AP cycle's performance variables. Also, it offers an easy-to-use user interface and amiable user experience with SAP platforms.
The additional operational benefits that InSITE offers are:
Improves data accuracy levels using self-learning capabilities, out of the box smart AI solution, no training required
Pre-packaged and guided configuration,
Minimal dependency on the IT team
Short implementation timeline and training period for business users
Intuitive and simple user-experience within SAP with productivity-enhancing features
Easy to configure business rules with the chart of authority
Intelligent invoice assignment to take care of the workload of AP executives
Easy substitution management for automated workflow approvals to improve the invoice processing time
Intelligent Insights with end-to-end analytics, monitoring, and reporting
Automated document archival and easy discoverability
In addition, the pre-configured invoice management based on accounts payable best practices and the option to multichannel invoice submission stands InSITE out from the crowd as the best intelligent accounts payable automation solution in the market.
Thank you so much for the precious time you spent reading our blog. This has been posted first on the Applexus website (Link: https://www.applexus.com/blogs/transform-enterprise-accounts-payable-with-intelligent-automation)
You are always welcome to ask any doubt about our product Applexus InSITE or with its functionality, integration, and implementation here in SAP Community.